FTP Activation for EFT Pro Dongle
PKR 8,800.00

PKR 8,800.00
---
---
FTP Activation for EFT Pro Dongle enables unlimited downloading of firmwares for 200+ brands.
After successful purchase of this activation, you will be able to use FTP File software using your EFT Pro Dongle.
While placing the order, please indicate the serial number of your EFT Pro dongle.
Where to find the serial number?
Register your dongle using EFT PRO software. It will show the serial number of your EFT Pro Dongle.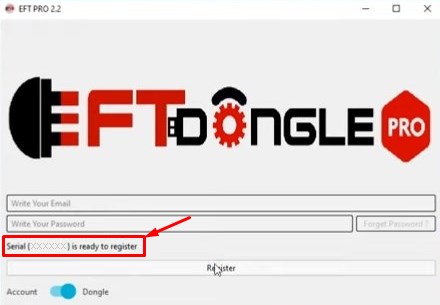 Note! This activation is valid for 1 year.
Daily limit for downloading firmware:
30 files, that include:
15 files of unlimited size + 15 files less than 200 MB, that include:

3 combination files, 3 board files, and 3 HTC files
Yearly limit:
up to 10 800 files
Software Features:
One-Click login to Support Area of FTP File Dongle main software
Online chat support 24/7
File request service allows you to send your requests and receive files.
Full information for all models (Android version, security patch, etc.)
High-speed of downloading saving your time
Regular software update and firmware upgrades.
Software will automatically inform you when new updates are available
Keep all Downloads History on Dashboard.
Supported Brands & Features:
Unlimited Downloading of Firmware for 200+ Brands, 190 TB Files
The

 

world's first

 

source for all brands
The latest installers, ROMs, firmwares, tools and manuals
Daily updates 150+ GB
Official ROMs for all models
FRP Remove Video & File Guide
All Firmwares for Various Brands
Schematics, Service Manuals and Test Points
EMMC DUMP Files
DA Files, MTK Secure Boot DA / AUTH / FRP files & NVRM
New brands and models added every day
Supported Brands:
Samsung, Huawei, HTC, ZTE, ASUS, Lenovo, OPPO, LG, Blu, VIVO, Archos, Motorola, Alcatel, Micromax, Sony, Xiaomi, Yezz, Intex, Acer, Apple, Blackberry, CCIT, Hisense, Nokia, Qmobile, G-TIDE, G-FIVE, DIMO, CHINA PHONE, CHINA TABLET, and more!
For more detailed information please visit Easy-Firmware official website.
Detailed information on the further use of the digital product will be sent to your email, specified during registration, when we confirm your payment and process your order.
---
We Also Recommend