Samkey TMO Server Credits
PKR 4,050.00

PKR 4,050.00
---
---
SamKEY TMO is special software for decoding locked TMB, MPCS, VRZ, SPR SAMSUNG phones that do not ask for network code and just show "Invalid SIM Card".
How to buy SamKEY TMO special credits
Open the software to get your Finger Print (System ID)
You will find it in the top right corner.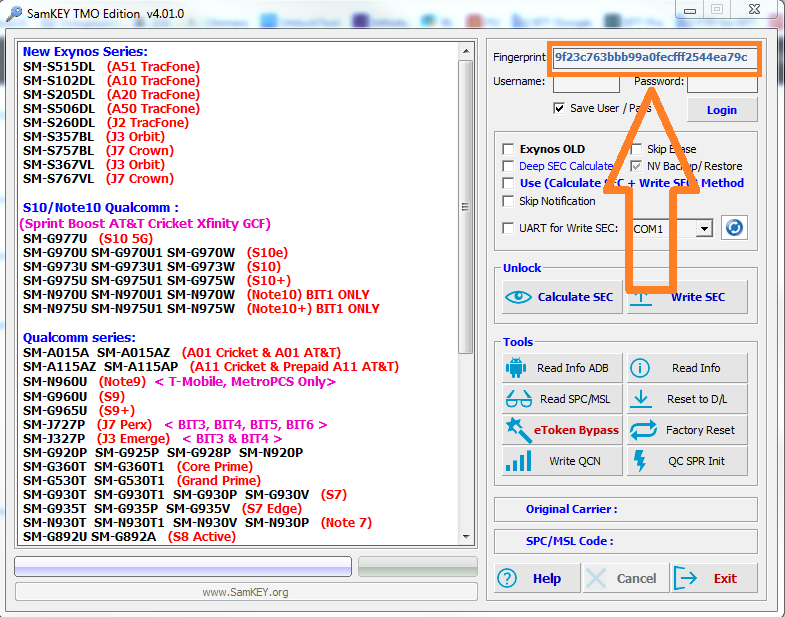 Indicate this Fingerprint while placing your order.
As soon as we process your order, we will send a letter to your email with your username, password, and the purchased amount of credits.
Read Beofore Using
Only USB cable is required for decoding
For S550TL you must have UART Cable
This solution makes the phone PERMANENTLY DECODED
Phone remains DECODED even if you upgrade firmware
Software is locked on one PC with fingerprint
You can change PC and change fingerprint once in a week
USB Sharing is not supported (Remote Decoding)
SamKEY TMO credits work with SamKEY SPR, SamKEY MTK, and SamKEY TMO software, but cannot be used with SamKEY CodeReader software. For SamKEY CodeReader software, please use

 

SamKEY Server Credits
* Developer provides support only for those phones which are on the list of supported. Not all servicing features can be applied to some supported models, due to difference of hardware / software versions. Complete list of supported models you can find on the official product page, or on the GSM forum.
Detailed information on the further use of the digital product will be sent to your email, specified during registration, when we confirm your payment and process your order.
---
We Also Recommend