Ultimate Huawei Activation for Avengers / NCK / UMT
PKR 18,550.00

PKR 18,550.00
---
---
This activations is intended for NCK Box/Dongle, UMT Box/Dongle, and Avengers Box.
Advantages:
Unlimited Access (No Username and Password required)
Lifetime Support (dongle based)
Without PC lock
No Yearly Activation Required
Important! This activation is DONGLE/BOX BASED.
This activation can be provided for:
NCK Dongle
NCK Box
UMT Dongle
UMT Box
Avengers Box
Features:
Supported 500+ Huawei models and modifications
Supported Hisilicon, Quallcom, MTK CPU's
Repair IMEI, IMEI2
Repair CDMA MEID, SUB IMEI
Repair Wi-Fi, Bluetooth
Repair SN
Repair Vendor, Country
Read unlock codes,Unlock
Read bootloader code,Lock bootloader
Unlock FRP
Note! You can add this activation only to a box / dongle with valid regular activation.
How to activate:
To add the activation for UMT Box/Dongle or NCK Box/Dongle, you need to:
Run the Ultimate NCK Huawei main software (not Flasher) once.
Important! Connect your dongle before starting the software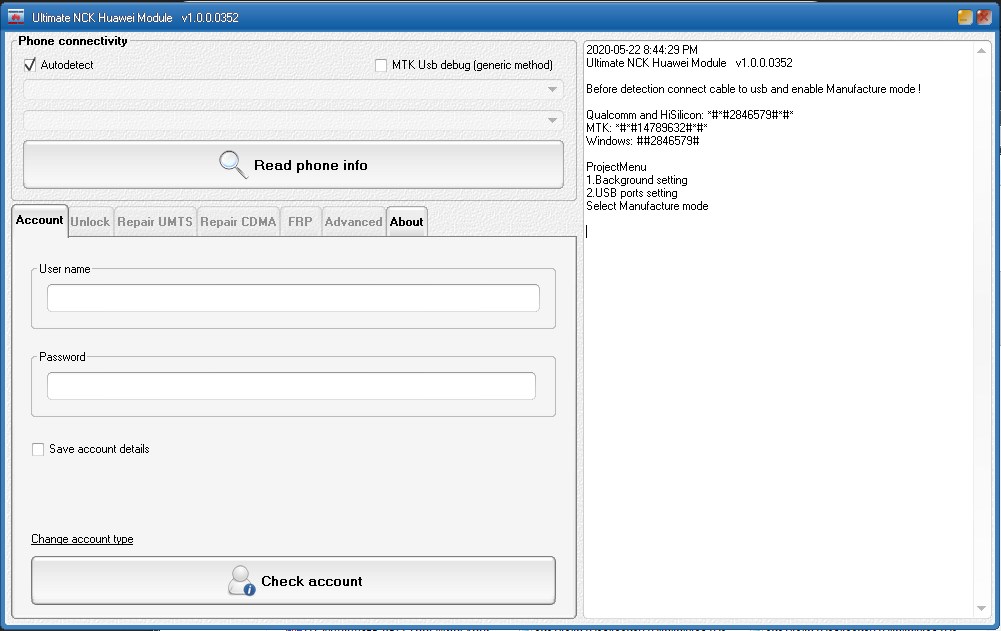 Press "Check account". Copy your serial number
Indicate your box/dongle serial number while placing your order at multipleonlinestore.com
After your order is completed, you will receive a notification to your email.
* Developer provides support only for those phones which are on the list of supported. Not all servicing features can be applied to some supported models, due to difference of hardware / software versions. Complete list of supported models you can find on the official product page, or on the GSM forum.
Detailed information on the further use of the virtual product will be sent to your email, specified during registration, when we confirm your payment and process your order.
---
We Also Recommend